Two men, now widely-known as the Boston Bombers, shook the nation on April 15, 2013. One man was subsequently arrested, and the other died during a gunfire exchange a few days later. Recently, three additional men have been arrested in connection with the attack. Federal Bureau of Investigation agents worked quickly to locate the suspects, and they relied heavily on video surveillance evidence to do so.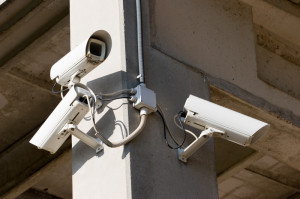 Caught in the Act
Immediately after the blasts, the FBI requested video surveillance footage from all surrounding stores and businesses. According to The Washington Post, the nearby Lord & Taylor camera directly across the street from where the bombings occurred was a key piece in determining suspects. The video allegedly shows someone dropping the black backpack at the scene. Most retail stores in the area have closed-circuit cameras that pan and tilt, much like the one that captured clear images of the suspects. These cameras catch any activity going on outside the business.
Request for Public's Help
On April 18, just days after the blasts, FBI agents requested the public to help in identifying two men they considered suspects. After analyzing photos, video footage, and other evidence the FBI agents were able to release clear images of the suspects taken from surveillance cameras near the scene. The FBI has since said it received thousands of tips based on the released camera footage and information.
Cameras and Crime
Video surveillance cameras are used every day to catch suspects. Banks, department stores, governmental buildings, and more all use this tool as a way to not only catch criminals, but also to deter crime from happening in the first place. Had those surveillance cameras not been present and recording at the time of the marathon blasts, the FBI and public may not have identified the suspects so quickly and efficiently.
Boston was subsequently shut down in a massive manhunt for the identified men. While city lockdowns are not frequent occurrences, unfortunately building lockdowns are. In the case of a lockdown, OSSI's Intelli-Site PSIM (Physical Security Information Management) solution can ensure your building and its occupants stay safe by reducing human error and providing greater situational awareness of all the security devices in your facility. If you have any questions about OSSI security solutions, give us a call at (888) 533-7508 or (262) 955-8770.