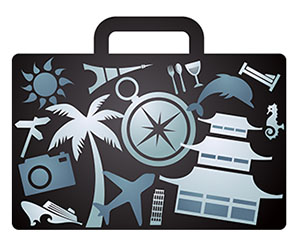 When traveling there's nothing worse than experiencing delays at the airport. Some of these can be attributed to security issues. Travelers are often in a rush to get to their destination and jumping through all of the security loops can feel frustrating. However, these airport security procedures are in place for our protection. Below we've outlined some great airport security tips you can follow to reduce personal delays and help airport security do their job to protect you and your family.
Pro-Active Airport Security Tips
Start thinking about getting through airport security before you even leave the house. You should familiarize yourself with the airport regulations and checkpoint procedures. This includes things like being required to remove jackets and/or shoes and knowing what items you can and cannot bring onto the plane. You will also need to remove various metal items from your pockets. Keep your cell phone, keys, jewelry, and coins together for quick removal.
The 311 rule for carry-on items allows passengers to bring 1 quart-sized, clear plastic, zip-top bag containing 3.4 ounces of liquids or gels through security. Medications, baby formula, and breast milk are allowed in reasonable quantities exceeding 3.4 ounces. You will need to declare these items for inspection at the checkpoint. Airport security may need to open these items for inspection so make sure they are easily accessible.
Your laptop will also need to be removed before going through the X-Ray screening. Make sure that you're not packing any items that could be accidentally mistaken as a prohibited item by the X-Ray. Plan ahead and put all these items together to avoid wasting time digging them out at the airport.
Obviously, you will not be allowed to carry any weapons through airport security but this also includes any sharp objects and some sporting equipment, including baseball bats.
If you're traveling with gifts, make sure to leave them unwrapped until you arrive at your destination.
Check in online. It's a good idea to check in online even if you have bags to check. Bag drop lines tend to be shorter than the check-in lines.
Airport Security Tips
Once you arrive at the airport obey all the rules. Show up early to give yourself plenty of time. If you're running like mad across the airport, security is going to need to know why. You don't want to waste their time or accidentally cause injury to other travelers just because you're running late.
Finally, be calm and courteous to the airport security and your fellow travelers. Remember that the airport security officers are doing their job to protect you and your family.